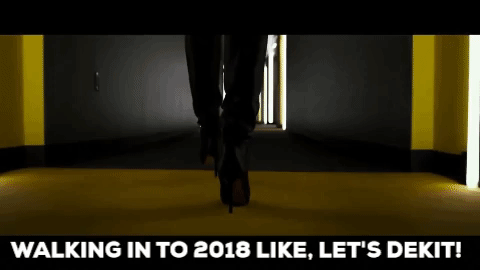 It's going to take vision to make 2018 a masterpiece
Not all of us are you walking in to 2018 like Taraji P.Henson–armed and ready. Most of us want to live a life of purpose, own your influence and amplify your impact, but haven't sat down to do the work.  If this describes you, do not stress. Most masterpieces do not happen overnight, but the do require a vision.
First things First
How's your vision? Is it clear? Meaning are you focused on realizing something specific with a specific vision for yourself?  In other words, have you identified your goals or dreams? You are going to need to sit down and think on it in order to make moves most effective.
Your vision is like your google map. Instead of passing streets, avenues and storefronts you are checking off daily task, hitting milestones and experiencing growth as you travel closer to your destination. The journey to realizing your vision.

How do you I get 20/20 vision?
Ask yourself, what is the big picture for my life? What are the different parts to your vision? From there prioritize and then choose an area of focus. Attacking an area of your vision at time makes the big picture more manageable. Once you get one thing done, all you have to do move to the next. Repeat this process until you have created your masterpiece. As far as time frame per goal, I suggest breaking it down quarterly. So every three months it's like a new year for you!
Executing your vision is like painting a portrait
Having a vision and manifesting that vision is like painting a portrait. The end goal is to have this amazing painting that represents your progress, your style and your voice in the world. Each piece is an extension of you to be sent out in to the world for people to experience. They can hate it, like it or love it, either way keep creating. What you create leaves a mark in the world.
Know your why, sis!
Why is your goal important to you? What purpose does it serve? Why do you have to paint this particular masterpiece? These questions make things real. Knowing why realizing your vision is a must for you is necessary. It can get you through the days when you want to give up or loose sight of your purpose. But it usually, boils down to a certain level of domain over your life and or the lives of people you love and care about.
It definitely helps to have a personal mantra, a tribe and good self-care routine to help you to refocus along the way.
Closing remarks
Yes, before you get there, there are several necessary steps that you need to take especially, if you are just learning how to paint.
What is your vision?
Is it clear?
Have you prioritized the parts of your vision?
What are you doing daily on your road to get to your complete manifested vision?
What's your why? What's motivating you
With that hard-work, patience and focus you will have your masterpiece and in the process you will become a masterpiece as well. #justdekit
Also, please know I am also a work in progress. This year I will take you all along this journey of realizing my goals, dreams and purpose.
It is my belief that the potential of humanity exist within the visions of creators. One cannot live without the other! So, I encourage you to go after it, sis. #justdekit #beacreator
Stephanie